Pregnancy Teas
Pregnancy Safe Teas & Herbal Tisanes
Explore our collection of teas and tisanes that are safe to consume during pregnancy in moderation. Of course, always check with your doctor to see if there are any specific ingredients you should steer clear of as every person and pregnancy is different!
Tea & Honey FAQ for Expecting Moms
What Teas are Safe to Drink During Pregnancy?
Finding a safe tea or tisane to drink during pregnancy can sometimes feel daunting. There's a significant lack of information around what is an is not safe to consume during pregnancy outside the obvious offenders like alcohol, soft cheese, sushi, and deli meats. A quick google often leads down a rabbit hole of asterisks and warnings and equivocation that can leave moms-to-be feeling even less sure than they were before they started.
We of course recommend consulting with your doctor or a trained herbalist / nutritionist before starting to regularly drink any tea or herbal tisane, but the good news is lots of teas and tisanes are safe for most expectant mothers during pregnancy in moderation.
It is also important to note that there is a difference between a 3-5 minute steep and a long extraction meant to provide medical benefit. While many herbs may not be recommended at medicinal levels during pregnancy, the occasional cup of hibiscus tea, for example, is not likely to cause harm. We also recommend that you pay attention to blend compositions - a long extraction of pure red raspberry leaf early in the third trimester could potentially cause complications, but as part of a blend with other nutritive herbs it is safe and even beneficial during the third trimester and may be increased over time.
Teas & Tisanes Safe Throughout Pregnancy
Are Herbal Teas Safe During Pregnancy?
Safe throughout pregnancy in moderation, each of the herbal tisanes below is naturally caffeine free and delicious! We've categorized these herbal teas by flavor and / or what they may help with as your pregnancy advances.
Caffeine-Free Teas for Morning Sickness
What teas are good for nausea during pregnancy?
Invigorating organic peppermint leaves come to us from Oregon.
Bright, lively, and refreshing with complex and subtle flavors, this mint tea makes a wonderful tisane hot or iced. In winter, Peppermint is even a common addition to our Matchas and Matcha Lattes!
Naturally caffeine free.
Our organic, caffeine free blend of ginger, lemon zest, and lemongrass is a brisk and refreshing tisane that will lift your spirits hot or iced.
A wonderful tonic to soothe your stomach, Ginger Lemon Zen is the answer to whatever life throws your way. Spicy and zesty ginger packs a real punch in this zingy ginger tea!
This herbal tisane is also available as a mini tea tin.
Naturally Caffeine Free.
Fruity Teas for Pregnancy
What Fruit Teas are Safe During Pregnancy?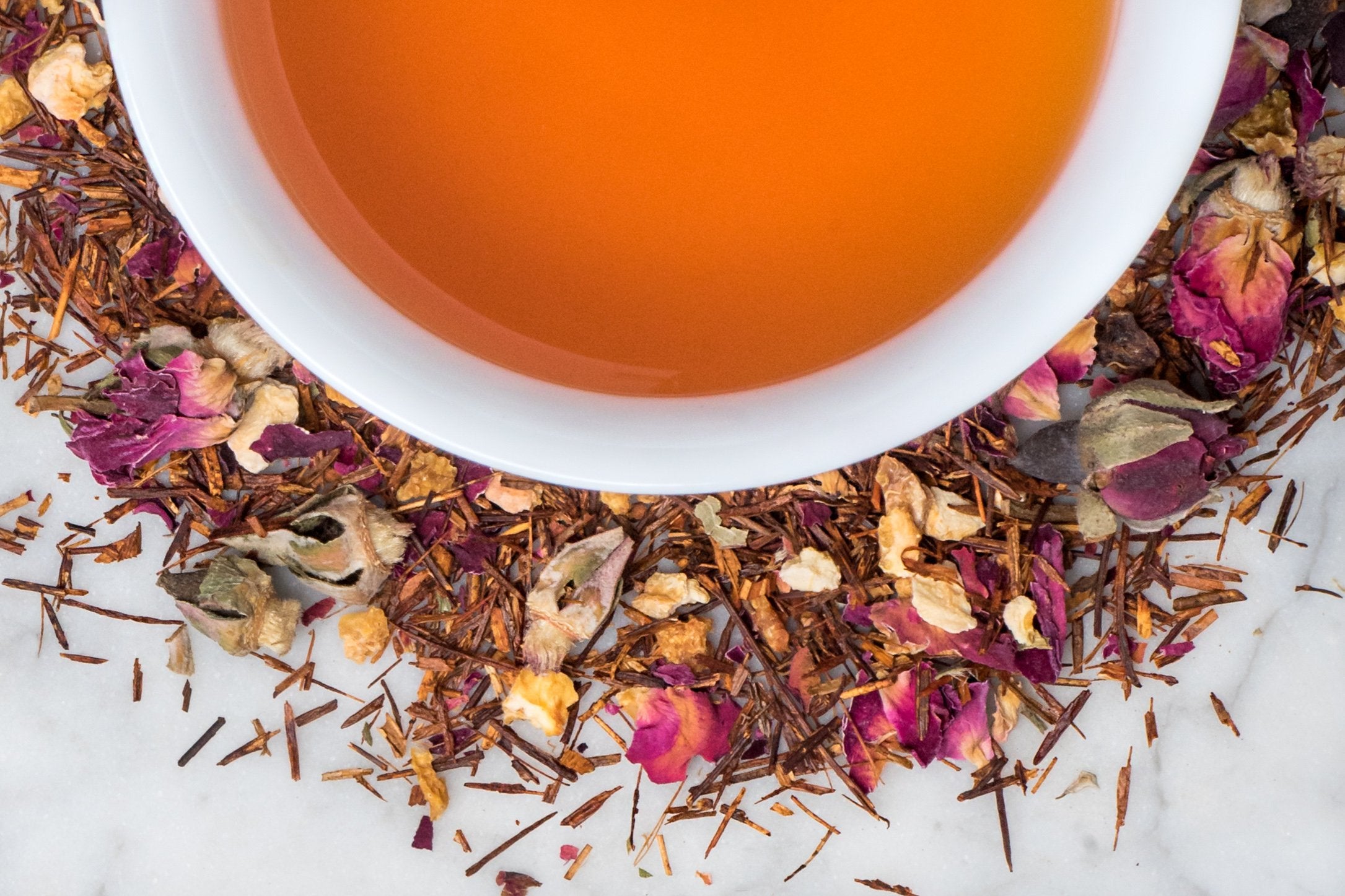 So simple yet so elegant. The vanilla notes of rooibos complements fragrant organic rose petals & the light citrus of organic orange peel so beautifully. Truly an herbal to relish.
This herbal tisane is also an unexpected favorite iced during the summer months at our Tea Bar and makes a wonderful tea for sipping poolside or at summer dinner parties.
Naturally Caffeine Free & Organic.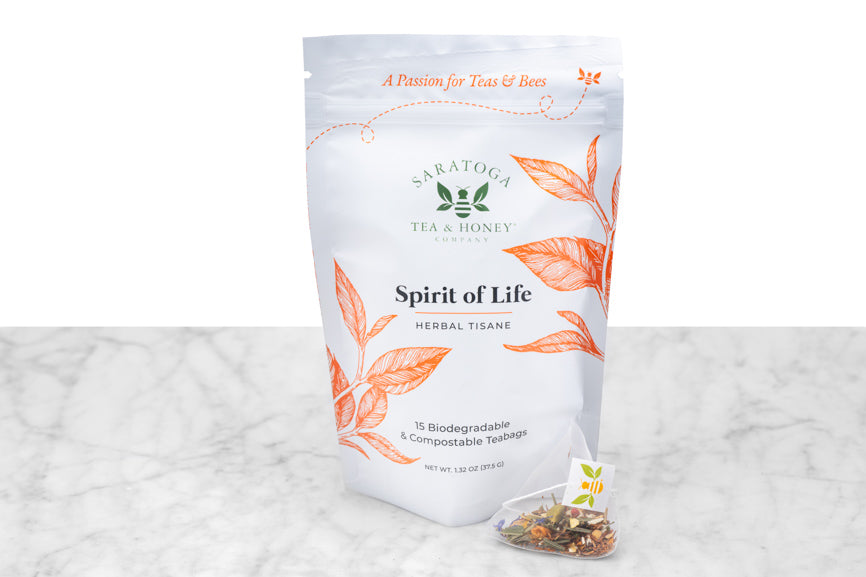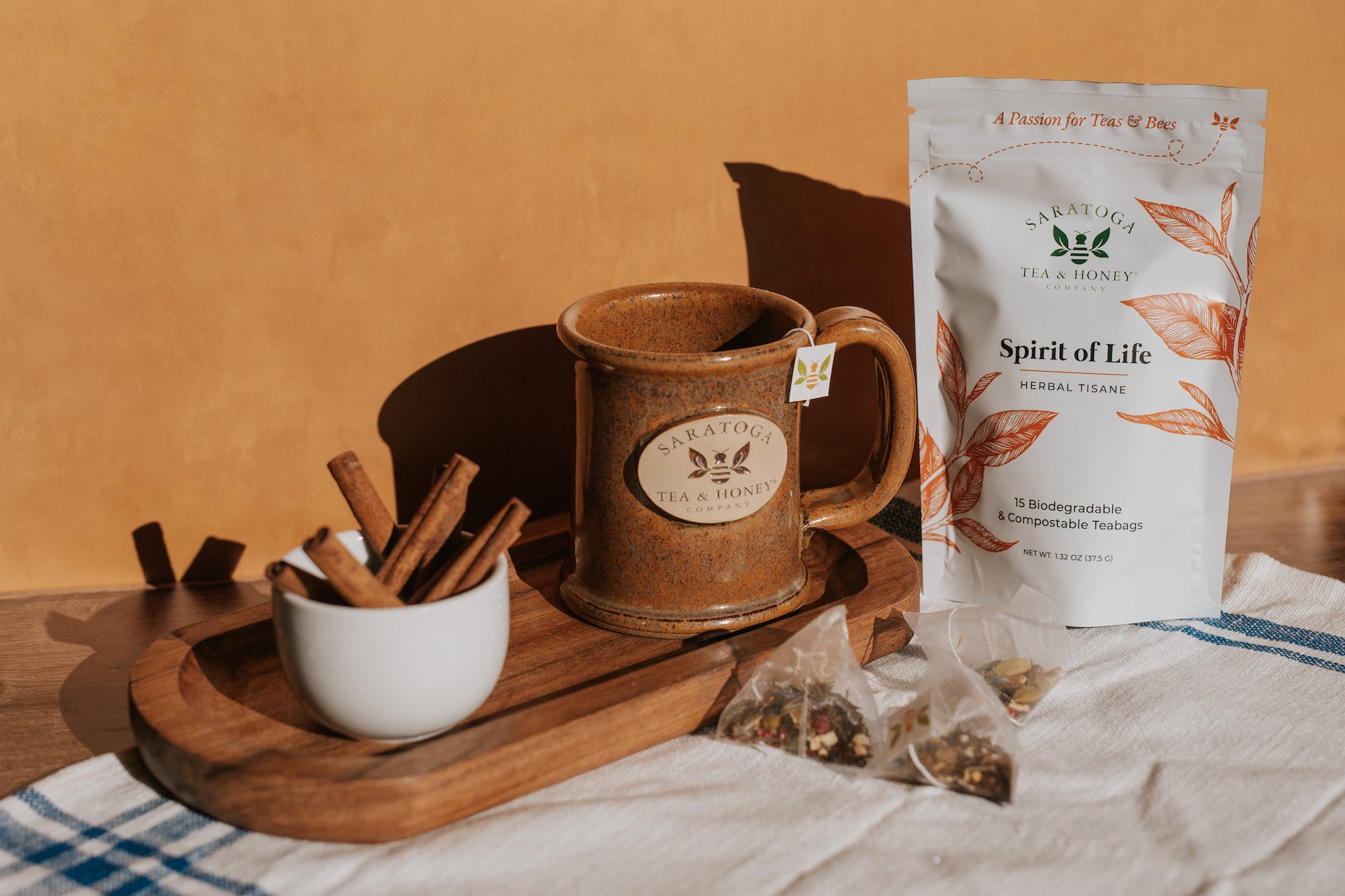 One of our most popular blends, this unique infusion of rooibos with bright citrus, a dash of fruit and warm spices will really lift your spirits! The Spirit of Life is rich in antioxidants and can be enjoyed hot or iced.
This herbal is also available as a mini tea tin.
Naturally caffeine free.
Psst! Our tea sachets make a great gift with our dishwasher and microwave safe stoneware bee mugs!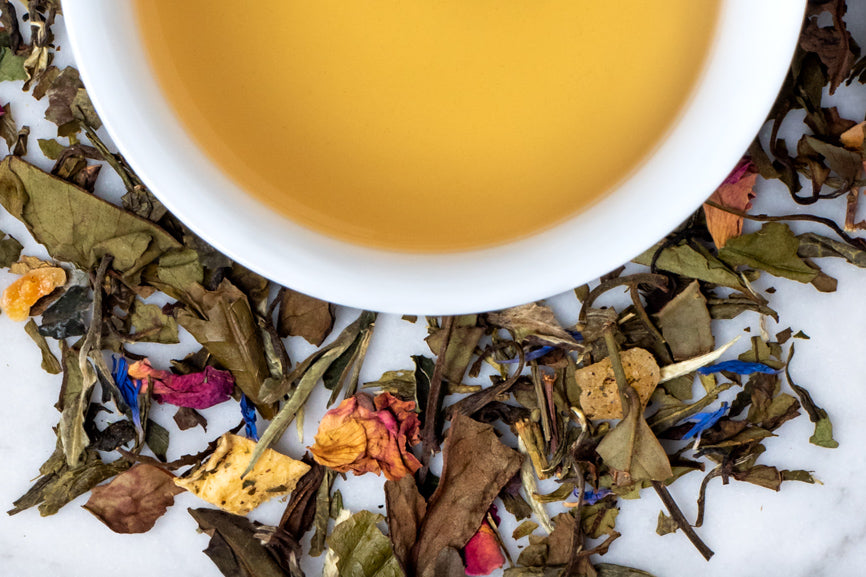 A lovely Bai Mu Dan White Tea from Fujian, our Sweet White Peach tea is an artful blend of delicate white tea, peach, and rose that is sure to conjure feelings of sipping sweet tea on the porch swing.
Perfect brewed hot for sill-chill summer mornings in the mountains or iced for sunny summer afternoons by the pool, Sweet White Peach Tea is sure to become a new summer staple!
Third Trimester & Post-Partum
What Herbal Teas Help with Lactation & Inducing Labor?
Red Raspberry Leaf Tea Blends
Is Red Raspberry Leaf Tea Safe During Pregnancy?
Our Baby Bump caffeine free herbal blend is crafted in house for mothers-to-be or new mothers looking for herbs that may be beneficial later in pregnancy or post-pregnancy. The benefits of this blend may go beyond supporting fertility, pregnancy and nursing and may help with boosting the immune system, heart & bone health, aiding digestion and soothing the nervous system. Men and women alike will love the smooth, gentle flavor of these beneficial herbs with a hint of peppermint to brighten the palate.
Naturally Caffeine Free.
If pregnant or nursing, please consult your doctor for guidance before drinking herbal teas.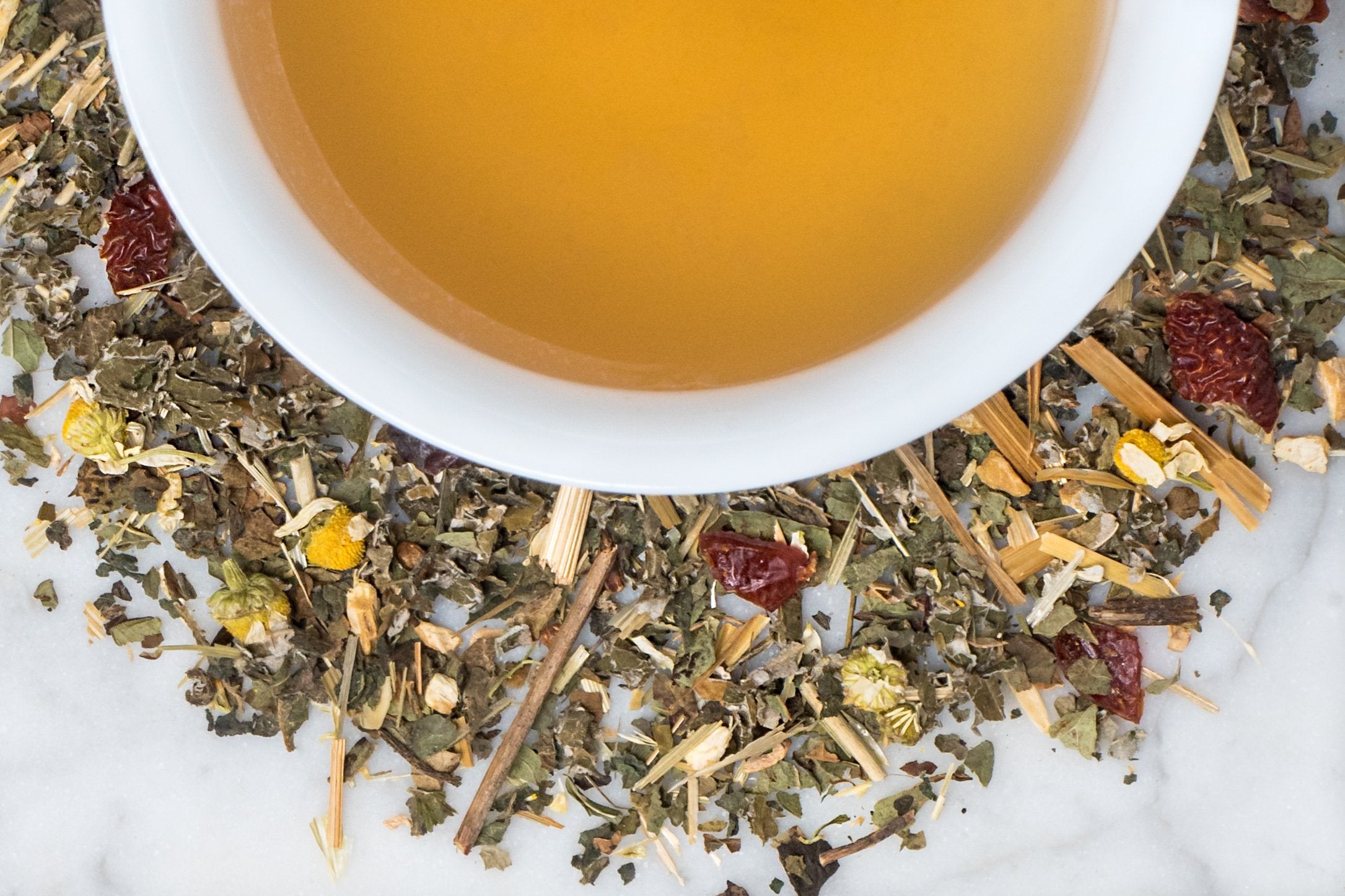 Our Bonjour Bébé is specially blended with powerful herbs to help mothers adjust to the demands of a newborn, create a sense of calm, renew the nervous system, restore vitamin and nutrient levels, rebuild strength and restore vitality.
Bonjour Bébé is part of our women's wellness series. We also recommend Mother Earth for fertility and Baby Bump for 2nd & 3rd trimester or as another postnatal option.
Naturally Caffeine Free.
We recommend always consulting your doctor before using herbal tisanes if you are pregnant or nursing. 
Fragrant and bright, this white tea blend is composed of wonderful fruit notes that will brighten your day! A blend of white and green teas scented with early summer fruits and red raspberry leaf, this strawberry tea is excellent hot or iced.
Shop All Caffeine-Free Herbal Teas