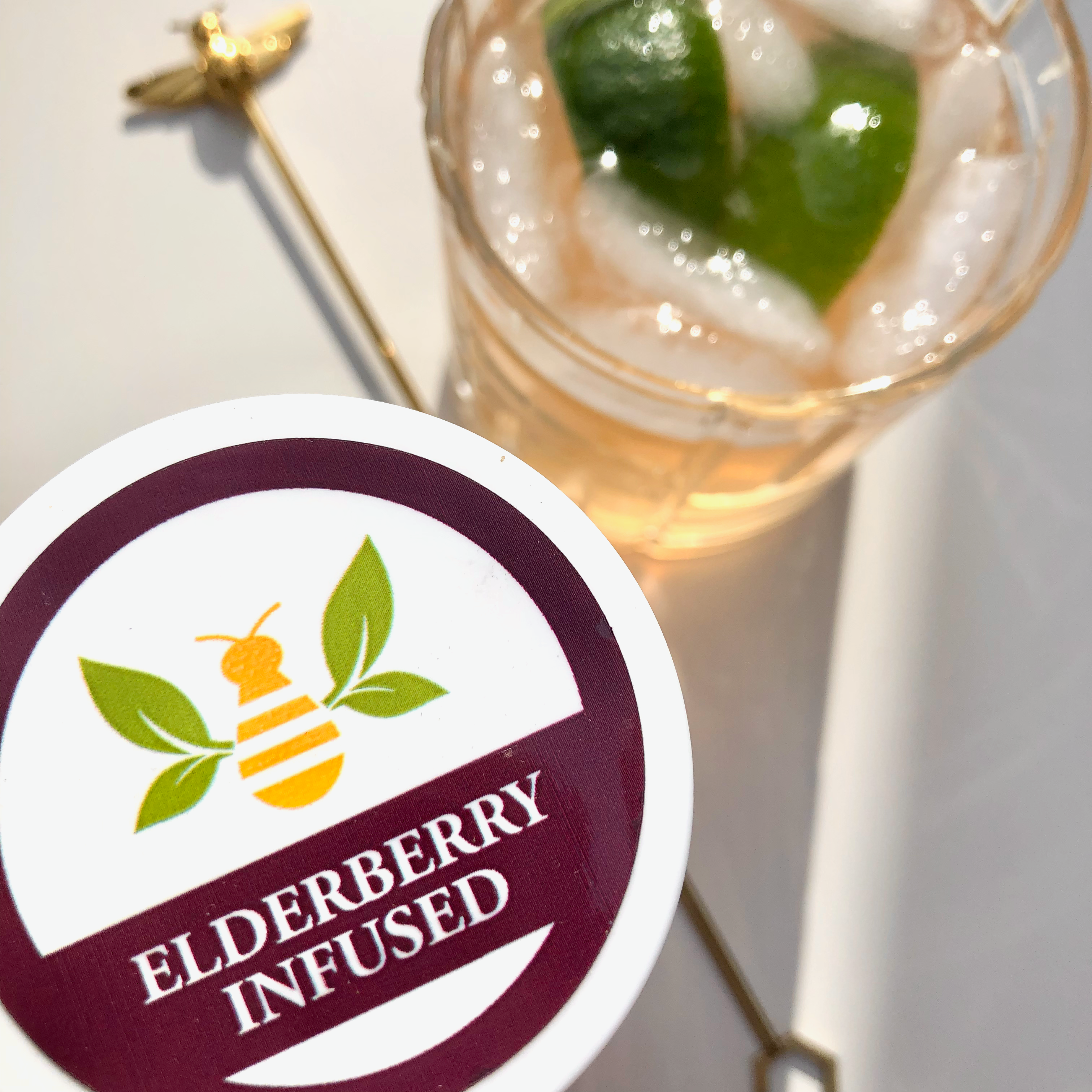 One of our favorite recommendations in our Honey Room is to encourage guests to experiment with honey simple syrups in cocktails because it's a fun, easy way to use honey in a way that's both special and part of everyday life. So, as soon as we tasted our new sweet-tart Elderberry Infused Honey, we knew we had to create some simple and refreshing cocktails for summer!
Usually our cocktail recipes here on the blog are a bit on the involved side, often including homemade tea / herbal infusions or several liquors. 
But the truth is a delicious cocktail doesn't need to be complicated, and this time we wanted to let our gorgeous Elderberry Honey speak for itself. 
Below, you will find a very easy recipe for honey simple syrup, as well as a few twists on classic cocktails using Elderberry Honey Simple Syrup. We recommend giving these cocktails a stir and experimenting with your own favorite flavors!
Using Elderberry Infused Honey in Cocktails
Elderbery Infused Honey Simple Syrup for Cocktails
Mix well until honey is fully dissolved. Store in the refrigerator for up to two weeks. 
Elderberry G&T Recipe
1/2 ounce Elderberry Infused Honey Simple Syrup
2 ounces Botanical Dry Gin (London Dry works too, but we recommend a botanical gin for a refreshing summer flavor)
Ice
Top with Fever Tree Tonic Water
Squeeze of Lime Juice
Lime wedge for garnish
For a berry delicious twist on the classic G&T, stir Elderberry Infused Honey Simple Syrup, Botanical Gin, Ice, Tonic, and a squeeze of lime juice. 
Elderberry French 75 Recipe
1/4 ounce Elderberry Infused Honey Simple Syrup
1/4 ounce St Germain Elderflower Liquor
Top with Brut Sparkling Wine
Stir and garnish with blackberries (or elderberries, if you can find them!)
Why Use Elderberry Infused Honey?
Elderberries are an amazing superfood full of antioxidants, and so is honey. Many elderberry syrups available commercially are full of added sugars needed to sweeten these naturally tart berries. Our sweet-tart Elderberry Infused Honey is a delicious and natural way to get your antioxidants or sweeten your tea or cocktails - without all the added sugar.
We knew immediately that we would be adding Elderberry Infused Honey to our cocktails this summer because its sweet-tart flavor profile is never cloying and pairs extremely well with refreshing summer flavors like lime, mint, basil, and cucumber. 
The sky is the limit with your Elderberry Honey Simple Syrup, and we can't wait to find out what you create!