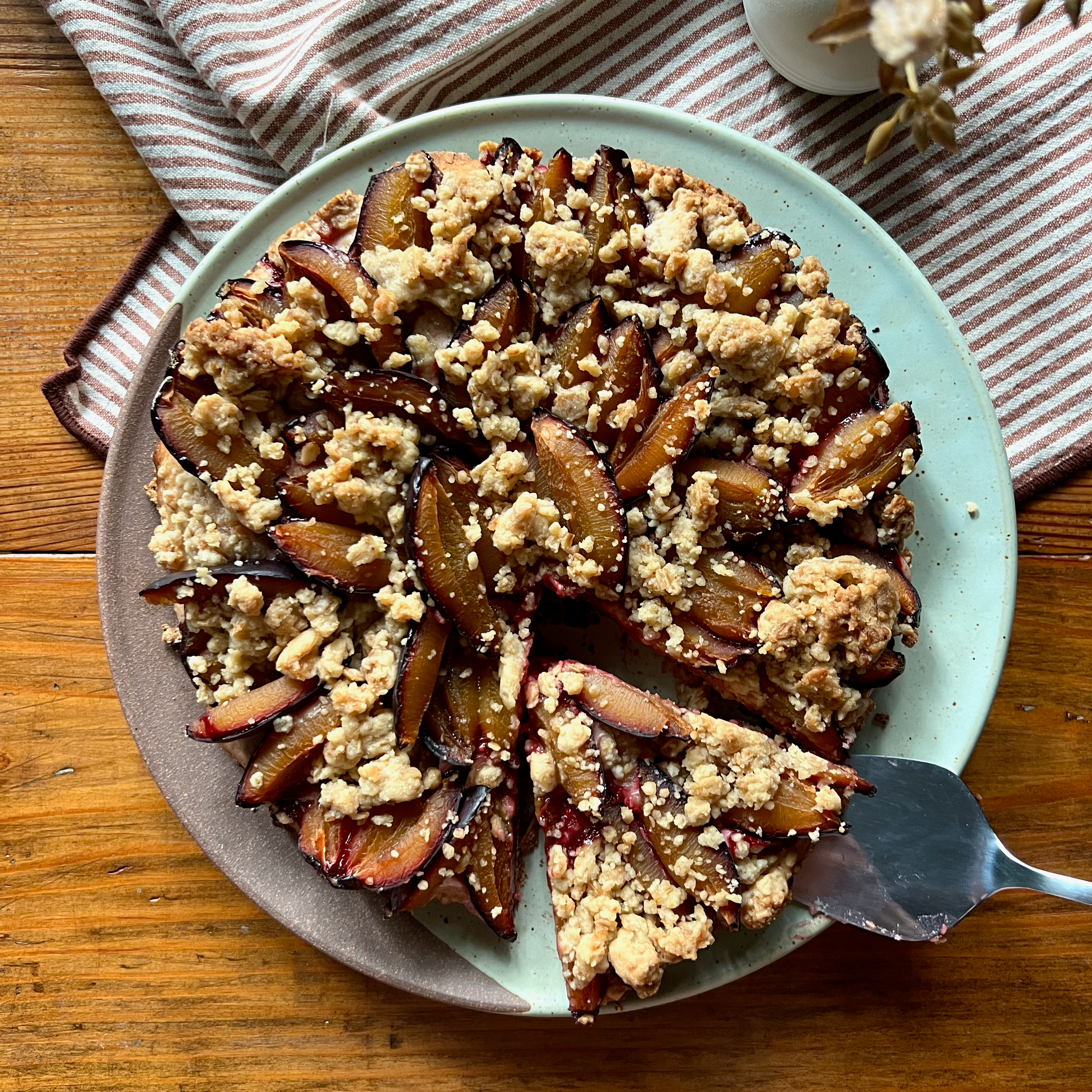 We believe in getting straight to the recipe, so if you'd like to hear about the trials and tribulations of figuring out how to make my husband's favorite childhood cake (Zwetchgenkuchen, aka German Plum Cake) with honey instead of sugar, please click here. Otherwise, read on for ingredients and directions, and enjoy! 
Ingredients
Yield: 2, 8" round cakes or 1 sheet cake
Sweet Yeast Cake Dough with Honey:
*Fun fact! This recipe is based on a recipe that originally calls for sugar. For this reason, baking soda is needed to counteract the acidity of the honey so your dough is not too dense or tough.
Learn more about substituting honey for sugar in recipes here >>
German Plum Cake Topping:
*If you would like to keep this recipe cane sugar free, make sure to check your vanilla! Many real vanillas are made with cane sugar!
Honeyed Oat Streusel:
Honeyed Fig Topping
Directions
Making the Sweet Yeast Cake Dough with Honey:
Scald butter and milk on the stove, being careful not to boil. Pour into mixing bowl and allow to cool to between 96° and 115° F (any cooler or warmer will kill your yeast).
Meanwhile, combine 1 cup of flour with salt, cardamom, and baking soda in a small bowl.
Once the milk and butter mixture is at the correct temperature. Add yeast to your milk mixture and stir. Wait ~2 minutes to allow the yeast to bloom. 
Meanwhile, gently beat 1 egg and add to your milk and yeast mixture after the yeast has bloomed.
Gently stir in your flour mixture until loosely combined and then add your honey. (We recommend not adding the honey before this step as honey is acidic and may adversely affect the yeast without the presence of the baking soda.)
Add remaining flour a little at a time until the dough forms a soft ball. Note: you will not use all the flour! 
Turn your dough out onto a lightly floured board and knead gently until no longer sticky. 
Place your dough in a lightly greased bowl and cover with a tea towel. Let your dough raise until doubled (~1 hour).
Making the Oat Streusel (for the Plum Cake)
While the dough is rising, you're going to make the honeyed oats for your streusel, conveniently making your kitchen a warm environment conducive to rising dough!
Preheat your oven in 300°F and line a baking sheet with parchment paper.
Mix oats, honey, oil, and cinnamon, then spread in a thin layer on the parchment paper.
Bake for 20 minutes until golden brown, stirring halfway through. Your granola will still be wet. Set it aside to cool and firm up. 
Once the granola is hardened, pulse in a food processor with butter and flour until you've reached the desired streusel consistency. Set aside until you're ready to assemble your cake. 
Making the German Plum Cake (Zwetchgenkuchen) Topping 
Pit your plums carefully so as to not entirely cut them in half by slicing lengthwise along the plum and gently pulling the sides apart to remove the pit. If this cake becomes a favorite like it is in my house, you might consider investing in a plum pitter!
Mix the quark or yogurt with the vanilla, honey, and cinnamon.
At this step you can either coat your plums with the mixture or decide to spread the mixture on your dough and rest the plums on top. This is entirely a matter of personal preference!
Yield: One 8-9" round cake
Making the Honeyed Fig Topping:
De-stem and quarter figs.
Combine in a medium bowl with honey and butter.
Add chopped rosemary and salt to taste. 
Yield: One 8-9" round cake
Assembling Your Honeyed Fruit Cakes:
Preheat your oven to 375° F.
Punch down the risen dough and turn out onto a lightly floured board. Knead once or twice to remove any residual stickiness from raising and divide your dough into two equal parts. (Or leave as one for a sheet cake.)
Roll out one ball into a 8-9" circle and place in a prepared 8-9" circular pan. 
Top with the fruit topping of your choice in a pattern that appeals to you. 
For the plum cake, add streusel after you've arranged your plums.
Roll out the remaining ball and place in a second prepared pan. Top again with the fruit topping of your choice. 
Bake for 20-30 minutes until golden brown. 
Place on wire racks to cool.
Serving Your Cane Sugar Free German Fruit Cakes:
We recommend serving both fruit cakes with tea or coffee. The fig cake goes particularly well with lightly honeyed whipped marscapone and chopped walnuts. You may find a scoop of vanilla ice cream to your liking with the plum. 
Why German Fruit Cake with Honey
Each late August and early September I search the local farmers markets high and low for zwetschgen (prune plums) to make my husband's birthday cake just like his mom makes back home in Germany. And every year I find the zwetschgen and make the cake and it's nothing like his mother's. 
So this year I had the brilliant idea to make it even harder to faithfully replicate his beloved Zwetschgendatschi by completely replacing the cane sugar with honey because... why not, right? (Plus, who doesn't want to get paid to make their husband's birthday cake?)
The first step was figuring out which honey to use, and I chose our Spanish Orange Blossom Honey because I thought its bright citrus notes would pair well with the plums and it was only fitting to use a European honey for a European recipe. Truly, though, I also think this recipe would be delicious with Alfalfa, Orange Blossom, or even Palmetto Honey. 
Honey is such an interesting sugar substitute because, unlike other sugar substitutes like coconut sugar or maple sugar, it's not granular but liquid. Typically this would mean bakers using honey as a sugar substitute would want to adjust the amount of liquid in their dough to compensate. I did not find this to be at all the case with the plum cake recipe, however, and actually ended up cutting the amount of flour and keeping the liquid the same (overly dry dough has been my perennial problem with these plum cakes).
If you compare our recipe to other German plum cake recipes online, you may notice that those recipes call for fresh yeast. Fresh yeast is very difficult to come by in the States, and I have to say the difference between fresh and dry yeast is my current working theory for why this dough requires less flour than the typical German plum cake recipe. If you have other thoughts or theories, I'd love to hear them!
After several batches of almost but not quite right plum cakes, I decided to also experiment with another of my favorite fall fruits for a topping: figs (because really you can only eat so much plum cake). At last, we had success and Saratoga Tea & Honey Co's German Fruit Cakes Two Ways were ready to be launched on the blog. 
This completely cane sugar free German fruit cake recipe is faithful to the original texture and flavor profile of Zwetschgenkuchen, and is perfect for serving with your afternoon tea or coffee. As I'm particularly partial to figs, I highly recommend taking advantage of the fact that this dough can be divided to make two 8" cakes to make one of each!