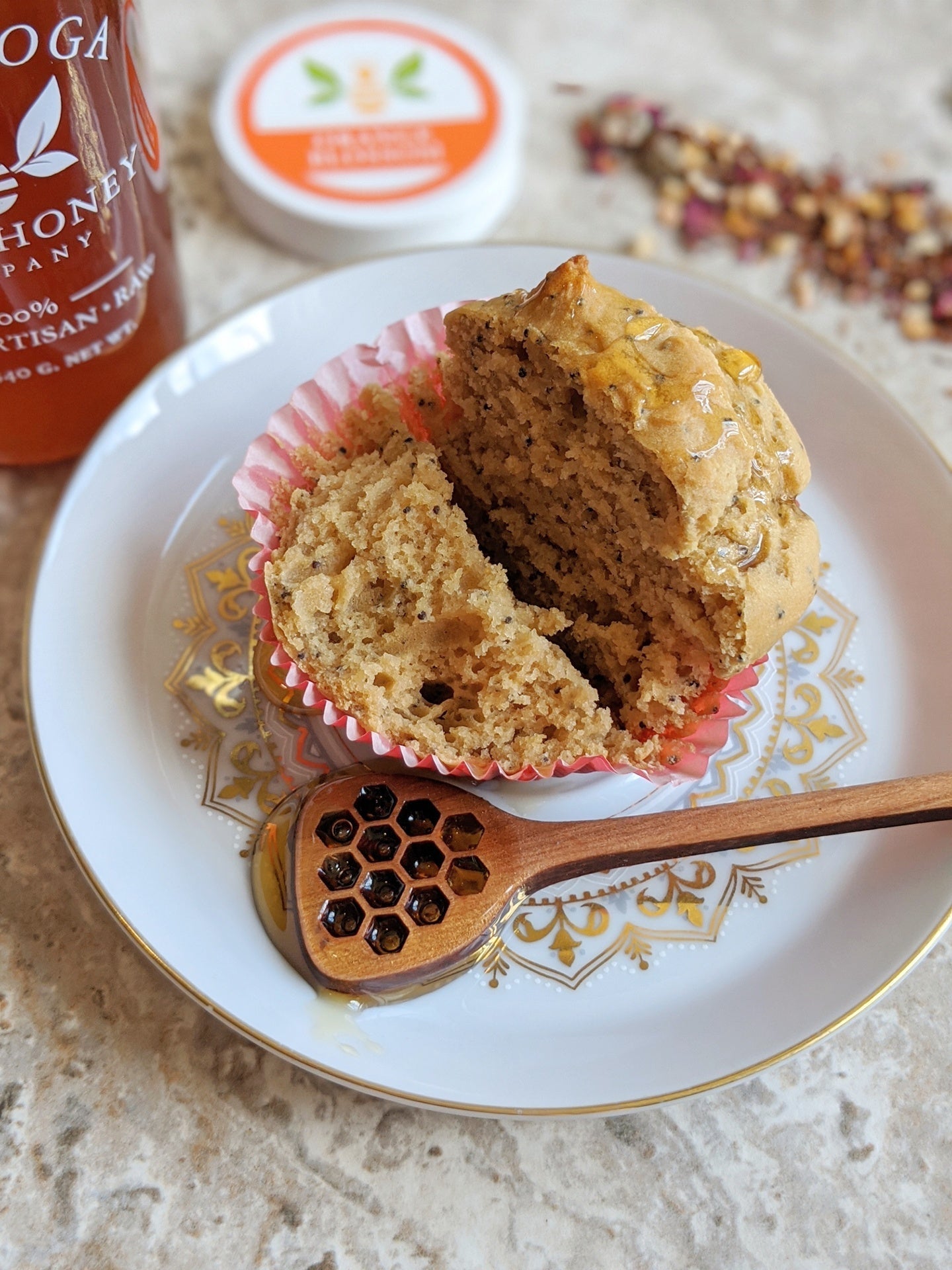 I don't know where you are right now, but here in Upstate New York it's still a bit chilly and rainy. Weather like this calls for a cup of tea and warm treat straight from the oven! At Saratoga Tea & Honey we're always looking for little ways to inject more of both those things, tea and honey, into our lives... you could say we're kind of obsessed. Being the carb-lover and amatuer baker I am, I decided to try my hand at making muffins with one of our herbal tisanes, and the result was delicious! 
A newer addition to offerings, we created Egyptian Goddess for our rooibos lovers. This herbal tisane only contains three ingredients; rooibos, rose petals and orange peel. The floral and citrus notes add a touch of add a touch of intrigue and elegance to this slightly sweet muffin!
To flavor these muffins with Egyptian Goddess, I made a strong infusion of about 5 grams (2 teaspoons) steeped in 8 ounces of boiling water for 10-15 minutes. To highlight the citrus flavor in the tisane, I lightly sweetened the batter with our mono-floral Orange Blossom honey from Florida. I was impressed how the subtle citrus and floral notes of the tisane and honey came through! For this recipe, I used a gluten free cup-for cup flour and goat milk butter, because that's what I have on hand, but regular flour and butter (or vegetable spread) will work too. Note: you may need to adjust the amount of flour, depending on the type used. Poppy seeds are totally optional, you could try other add-ins like chopped pecans or mini chocolate chips! Find the recipe below. Happy Baking!
Citrus Rose Muffins
½ cup 

Orange Blossom

 

Honey

1 stick butter, about 1/2 cup (melted)

1 cup brewed 

Egyptian Goddess
1 egg
1 tsp vanilla
½ tsp salt
1 ¾-2 cups flour (I used GF, so different flour may require less or more start low and add a bit more flour if needed)
1 tsp baking powder
1 tsp baking soda
1 tbsp poppy seeds (optional)
Combine all of the dry ingredients in a large bowl, then add the wet ingredients and fold until well incorporated, making sure not to over-mix. Nobody likes a tough muffin!
Divide the batter into a 12 muffin tin, greased or lined, and bake at 375F for 15 minutes or until a toothpick comes out clean.
Enjoy with a drizzle of Orange Blossom honey and a cup of Egyptian Goddess!