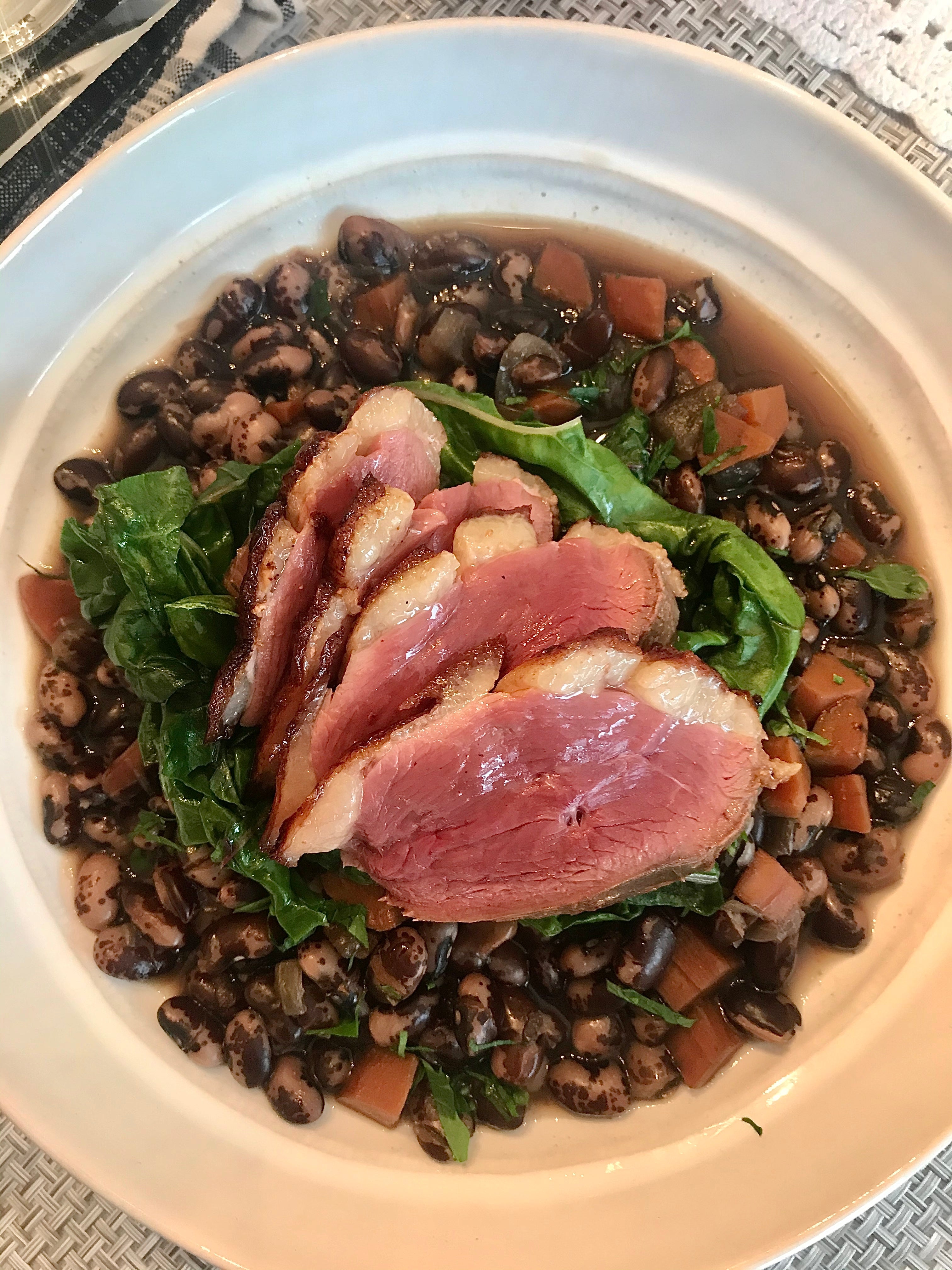 Tea can be a really wonderful ingredient in your kitchen. It can provide great flavor to soups, baked goods, cures, and cocktails.  We love using Lapsang Souchong, a smoked black Chinese tea, to add a depth of flavor to stews and we were really happy with this recipe using tea and orange peel in the bean cooking liquid.  The smoky flavor can be an economical and vegan replacement to bacon and the citrus compliments the tea and lightens the flavor.  We decided to pair it with duck and sautéed garlic swiss chard, but it would be a great side dish to any dinner, or satisfying as a stand alone with yogurt and hot sauce!  Enjoy!
Equipment needed: Pot for Beans, sauté pan, cheesecloth, twine, peeler.
Ingredients:
2 c dried beans, rinsed and soaked over night in water, rinsed again
1/4 c Lapsang Souchong tea
1 tsp black peppercorns, cracked
1 bay leaf
1 handful thyme
1 orange, peeled
2 cloves of garlic, smashed
1 large carrot, medium dice
1 yellow onion, medium dice
5 c vegetable or chicken stock
extra virgin olive oil
sea salt, to taste
Procedure:
1. Preheat the oven to 350°F.  
2.  Place the tea, peppercorns, bay leaf, thyme, orange, and garlic in the cheesecloth sachet and tie it with twine. Double up if necessary.
3. Heat olive oil in a sauté pan and sweat the carrots and onion with a pinch of salt.  Remove once translucent and slightly golden and add to the bean pot.
4. Add the beans and mix with a wooden spoon. Add in the sachet and pour over the stock. Season with salt.  Cover and back for 1.5 - 2hr or until the beans have softened but still have a 'tooth'.
5. Remove from the oven and adjust seasoning.  Serve as a side dish to dinner or  with yogurt and hot sauce.