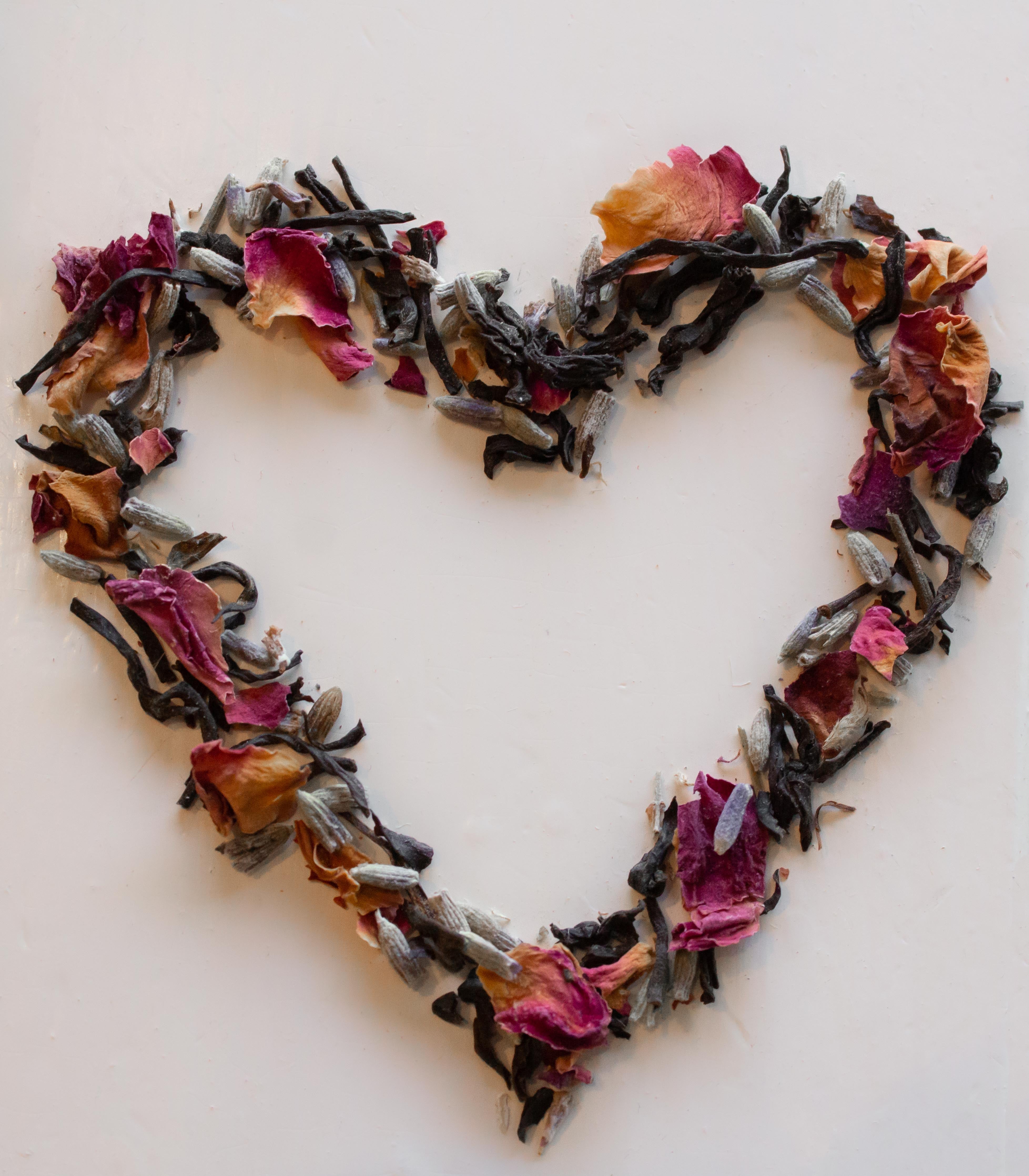 February 14th is the perfect time to treat the people you love to the things that bring them joy! We've put together a gift guide for those buying for their tea-loving lover or honey-loving bff this Valentine's Day. 
Tea & Honey Valentine's Day Gifts for Lovers
The gift for when you go together like Tea & Honey:
Paris in Love & Tupelo Honey - $12 and $20
When they're as sweet as Tupelo Honey and you dream of waking up next to them in the world's most romantic city, we recommend our favorite lover's pairing: Paris in Love and Tupelo Honey. 
Paris in Love is a beautiful black tea scented with bergamot, lavender, and rose. Wake up your lover with a cup of this beautifully scented tea and and transport yourselves to a Parisian bedroom overlooking the Seine. 
The gift for when you want to say "Bee Mine": 
Hungarian Acacia Honeycomb and / or Honey Candies - $15 and / or $9.50
Surprise your sweetheart with a treat as delectable and unexpectedly delightful as they are.
Our Hungarian Acacia Honeycomb is light, delicate, and 100% edible! Try honeycomb as a garnish on chicken or fish, on crackers with sharp cheese and prosciutto, or on its own as a sweet and healthy snack. 
Tired of run-of-the-mill Valentine's candy? Honey Candies are as cute as they are sweet! Our all natural Honey Candies are the ideal little something to say "I think you're pretty sweet!". 
The gift for when you want to say "It's ok to steep together on the first date":
Private Tasting for Two -  $35 per person
Still getting to know each other? Been sharing a breakfast table for 50 years? From brand new relationships to those that have stood the test of time, quality time is one of the best gifts we can give and receive. This Valentine's Day give your loved one a beautiful experience that will turn into a cherished memory. Our Private Tastings include tasting 3 teas and as many honeys as you would like. Tailor your tasting to your palate and enjoy a fun and relaxing date night. 
Learn More about Private Tastings >>
The gift for when you want to say "I'm sweet on you":
Chocolate Honey - $17
Delicious on fresh cut strawberries, over ice cream, or by the spoonful, this Chocolate Infused Honey is a delicious way to let your honey know you find them good enough to eat.
Tea & Honey Valentine's Day Gifts for Friends
The gift for when you're two teas in a pod:
Gabacha & Tranquilité - $20 and $10.75
This stress-relieving power duo is almost as good as a spa day with your best friend!
Gabacha is a Taiwanese oolong with a high concentration of the amino acid GABA. GABA is received as stress-relieving in your brain, which makes this caffeinated oolong just like a rejuvenating outing with your bestie. 
Tranquilité is a beautiful, full-flower herbal from Québec that brews to a brilliant magenta. Drinking Tranquilité is like spending a relaxing evening under the stars with your favorite person talking about nothing and everything. After both or either you feel completely at one with the universe. 
The gift to sweeten your work bestie's honey-do-list:
The Saratoga Honey Gift Set - $24
Our Saratoga Honey Gift Set includes our local Saratoga Wildflower Honey, best-selling Mango Infused Honey, and fan-favorite Ghost Pepper Honey. The three most popular honeys in our Honey Room, this gift set is the perfect combo for every work mood - sweet, spicy, and a little bit tropical.
Shop the Saratoga Honey Gift Set >>
The gift for your BesTEA:
Curve Brew-In Mug and Shan Lin Xi - $27.75 and $20.00
Give the best to your besTEA! Shan Lin Xi is an incredible high mountain oolong with subtle floral notes and a balanced liquor that's light and refreshing on the palate. The perfect tea to sip on winter mornings when you're longing for spring. 
Our minimalist Curve Tea Cup with infuser is an Asian design inspired brew-in-mug that curves perfectly to your hand and is the coziest way to sip your tea. Complete with a convenient infuser, this mug is the all-in-one solution for your besTEA's brewing needs.  
Tea & Honey Valentine's Gift for Kids
The gift for your busiest bee:
Wildflower Honey Sticks - $ 0.50
For busy bees on the go, we love our Wildflower Honey Sticks. The perfect snack to throw in a lunch box, these energizing and healthy treats are the ideal afternoon pick-me-up for when you're running between school and sports and scouts. 
Shop Wildflower Honey Sticks >>
The gift for your sweetest bee:
Cinnamon, Chocolate, or Mango Honey - $17 or $20
Three of our most popular infused honeys, Cinnamon, Chocolate, and Mango are always a hit with kids (of all ages!). Match the honey to your sweet bee's tastes and enjoy over fruit, in tea, on ice cream, or by the spoonful!