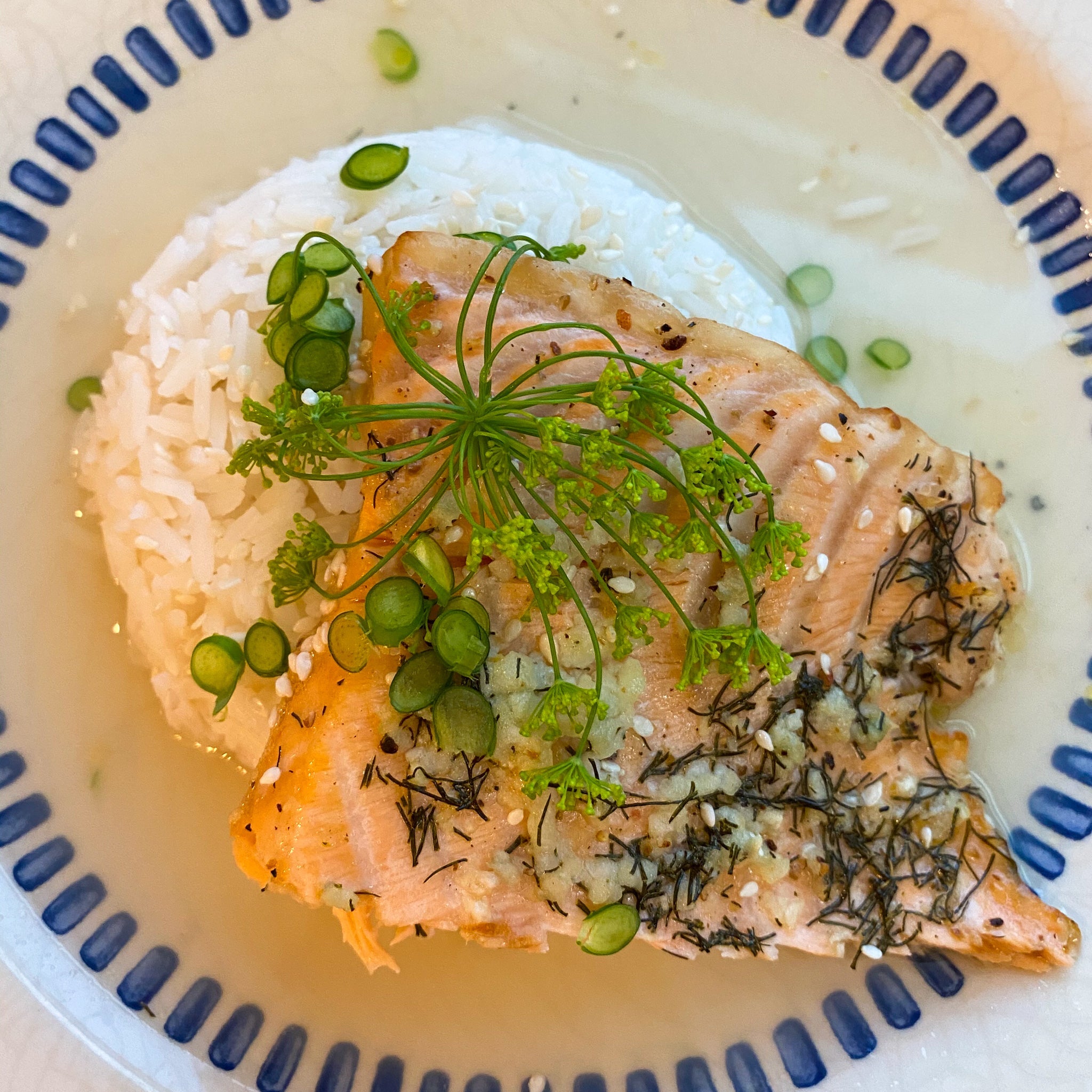 Chazuke, or ochazuke, is a meal that gets its name from cha, meaning tea, and tsuke, meaning submerge. This Japanese dish includes pouring green tea over rice. Traditional variations include toppings of pickled vegetables like eggplant or daikon radish, proteins like salmon, tuna, sashimi, or roe, and vegetables like green onion, spinach, and mushrooms. 
This version of ochazuke includes salmon cooked two ways, a salty, umami version and a garlic, butter and herb version. It features one of our Teas of the Month, Kabusecha Takamado. This tea from Uji, Japan is covered two weeks before harvest, resulting in an infusion with less bitter and more umami characteristics. You may find this tea brings to the nose and tongue springy notes of spinach, pea shoots, and creamy nuts. This makes for a perfect pairing over rice and salmon, as it provides an umami depth of flavor in unison with the fish and fresh herbs. 
Yields about 4-6 servings 
Prepare Jasmine Rice following package instructions.
Miso Salmon:
1 medium-large salmon filet
3 t miso
3 t tamari
5 t rice wine vinegar
2 T water
Preheat oven to 425°F.
Combine miso, tamari, rice wine vinegar, and water in a bowl. Add mixture to a sealable bag and marinate for up to 6 hours. 
Bake on baking sheet for 12-15 minutes.
Garlic, Butter, and Dill Salmon:
1 medium-large salmon filet
2 T butter
2 large garlic cloves
4 T lemon juice
1 T fresh dill, or dill to taste
Salt and Pepper to taste
Preheat oven to 425°F.
Melt butter and mix together with garlic, lemon, and dill in a bowl. Pour mixture over salmon filet and cover in foil, place on baking sheet.
Bake for 12-15 minutes. 
For the Kabusecha concentrate:
Brew 3 tsp of Kabusecha Takamado in 1 cup of 175°F water for two minutes, right before serving so the tea is warm. 
For the plating:
Dill, garlic scapes, scallions, cilantro, and/or parsley
Sesame seeds
Wasabi
Soy sauce
Sesame Oil
Use a small bowl and pack down rice inside of it to form a rice ball. Flip it over onto a plate. Place salmon over the rice, and finish with your choice of fresh herbs. Pour over the Kabusecha Takamado infusion and top off with sesame seeds and other garnishes to tastes. Enjoy!