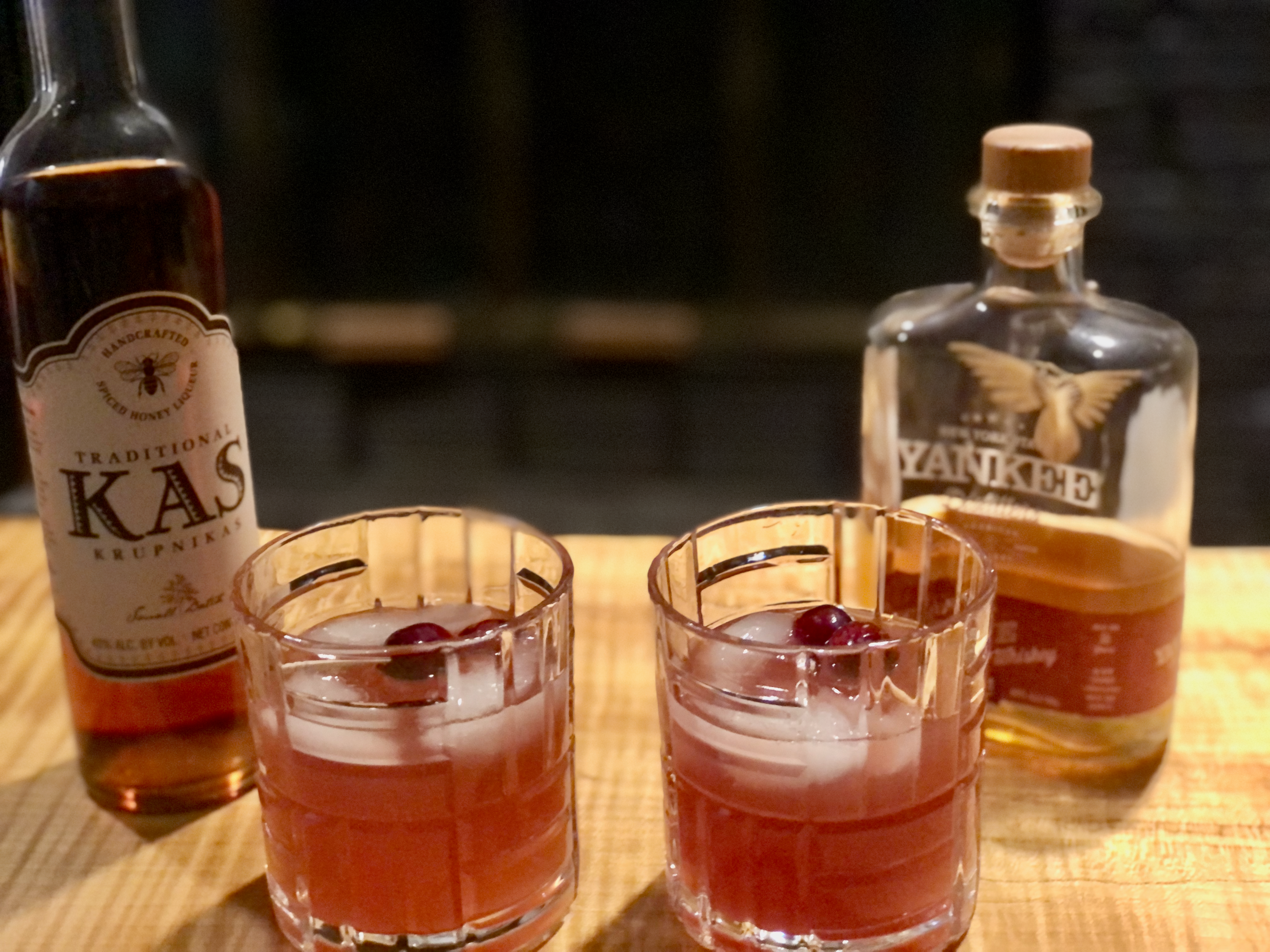 We've been casually recommending in-store customers try creating shrubs or tinctures out of our herbal tisanes for years now, but we thought it was time to share our Immune-Boosting Cranberry & Pine Tea Shrub recipe with all of you in a more official way! 
If you just want to skip to the good part, click here to jump to the shrub recipe & recommended cocktails / mocktails. If you're interested to learn why this shrub is immune-boosting in addition to delicious, read on!
The Health Benefits of Our Wild Taiga (Pine Tea) Herbal Tisane
The wild-foraged ingredients in this wintery herbal tisane come to us from the northern regions of Canada. A pine tea with the added benefits of chaga mushroom and wild blueberry, our Wild Taiga blend is thought to be a flu-breaker and anti-inflammatory tisane that boosts general immune and respiratory health. 
The reasons we encourage our customers to try shrubs or tinctures with our healthful herbal tisanes are twofold: 1) The longer you steep them, the more health benefit you will extract and 2) we recommend drinking herbal tisanes every day to see true benefit, and sometimes you just don't want a hot cup of tea! (Shhhh! Don't tell anyone we said that!)
The Health Benefits of Pine Tea - Spruce, Fir, Balsam, Labrador Tea & Juniper Berries 
Pine Tea acts as a very good flu and cough breaker. Wonderful for your respiratory system, these ingredients are full of antioxidants and Juniper Berries especially are packed with Vitamin C. 
The Health Benefits of Chaga Mushroom
Chaga has been shown to boost immune systems and act as an anti-inflammatory agent. Chaga may also help to lower cholesterol and blood sugar. 
The Health Benefits of Wild Blueberries
Known as the king of antioxidants, blueberries help to fight free radicals in the body and contain large amounts of vitamins K and C. 
The Health Benefits of Cranberries
Cranberries are a superfood chockfull of vitamins and antioxidants. In addition, they may help to lower blood sugar and improve cardiovascular health. Cranberries also help to improve your gut bacteria - extra important at this time of year when many of us tend to overindulge! 
The Health Benefits of Apple Cider Vinegar
Apple Cider Vinegar has antimicrobial properties and antioxidant effects. It is also believed to aid in weight loss, lower cholesterol, and lower blood sugar. So in addition to fighting bad bacteria and free radicals, it helps balance your gut microbiome!
Fresh Cranberry Wild Taiga Shrub Recipe & Cocktails
For the Cranberry Wild Taiga Shrub
Ingredients:
2 cups water
1 cup Apple Cider Vinegar
3/4 to 1 cup Honey (to taste - we recommend Cranberry Blossom Honey!)
2 c fresh, washed cranberries
16 grams Wild Taiga Herbal Tisane
Directions:
1. Combine all ingredients in a medium sauce pot over medium heat.
2. Stir until honey is combined in water and vinegar and all the Wild Taiga is immersed in the shrub mixture.
3. Bring to a boil. Lower heat and simmer until cranberries have all popped, stirring occasionally.
4. Remove from heat and allow to cool. 
5. Strain mixture into a container for storage. We recommend using a very fine mesh sieve or two layers of cheesecloth to catch all the pulp and small pieces of Wild Taiga. 
6. Chill in the refrigerator for up to 2 weeks!
And now, the Cranberry & Pine Cocktail Recipes!
Kas Honey Liquor Cranberry & Pine Soda
A traditional spiced honey liquor, Kas is a delightful addition to many holiday drinks or as an after dinner digestif. We love the sweet spice it adds to the shrub in this drink!
1 ounce Kas Honey Liquor (You can find this delicious spiced honey liquor at our friend and neighbor By the Bottle!)
2 ounce Cranberry Wild Taiga Shrub
4 ounces club soda
Stir and serve over ice. Garnish with fresh cranberries. 
Cranberry & Pine Whiskey Soda (feat. Yankee Distillers Honey Whiskey)
As delicious as it is simple, this whiskey soda plus shrub is a festive crowd-pleaser.
1.5 ounces Yankee Distillers' Honey Whiskey (Located in Clifton Park, NY, Yankee Distillers make their honey whiskey in the same barrels we use to age our Whiskey Barrel Wildflower honey!)
2 ounces Cranberry Wild Taiga Shrub
4 ounces club soda
Stir and serve over ice. Garnish with fresh cranberries.
Cranberry & Pine Gin and Tonic
A holiday twist on everyone's favorite classic, this Gin & Tonic is made with a specialty botanical gin distilled with Saffron, Cardamom, and Orange. It adds a delightful citrus piquancy to the shrub!
1.5 ounces ESP NOHO Gin (this Saffron, Cardamom, and Orange distilled gin may also be found at By the Bottle!)
2 ounces Cranberry Wild Taiga Shrub
4 ounces tonic or club soda
Wild Taiga 75
A twist on the French 75, this sparkling wine cocktail is perfect for NYE!
1 ounce Cranberry & Pine Shrub
1 ounce Honey Liquor, Honey Whiskey, Spiced Rum, or Gin (depends on your preference! For a mocktail version, try cranberry juice instead!)
3 ounces Sparkling Wine (or Sparkling Apple Cider for mocktails)
Garnish with fresh cranberries.
Cranberry & Pine Mocktail
And for those who don't drink this shrub is a festive and healthful way to join in on the holiday cheer. Just add club soda, ginger ale, or sparkling apple cider!
2 ounces Cranberry Wild Taiga Shrub
4-6 ounces Club Soda or Ginger Ale
Stir and serve over ice. Garnish with fresh cranberries!